Water to drink for free in Myanmar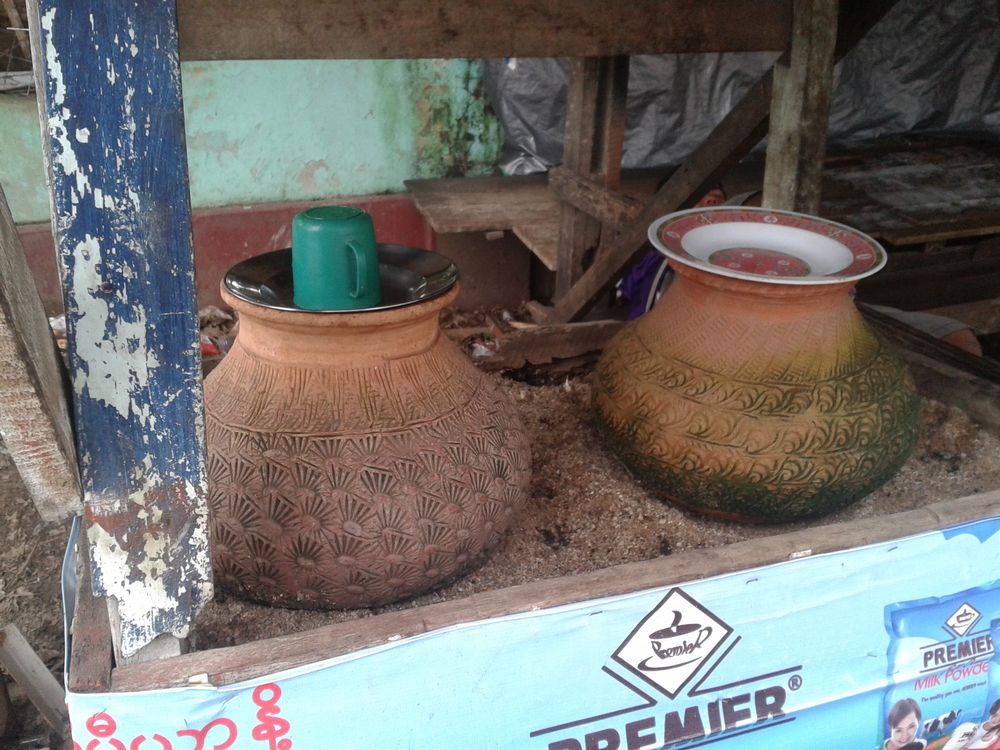 For you with strong stomach we have a insider tip for low cost drinking of water in Myanmar.
On every corner of the street you can find small terracota amphoras full of drinking water. Local people use it often and without any hesitation. The only way which make us a bit unfamiliar with the system is, that everybody drinks from the same glass laid in the small bowl covering the jar. No washing, no hygiene. Well, if you dare – it certainly is the way how to earn some money.
For the rest of you, there is another way to get cheaper way for drinking. Instead of buying 1 liter big bottles, buy a big 5 liters bottle and fill smaller empty bottles bought before. Or you can spare even more money by buying whole 19 litres barrel of water. Don't worry – the barrel has a tap and it is reusable. You need to pay for the barrel as well, but it is reimbursed when returning the barrel.
Are you curious how the evaporation system of cooling water in terracotta jars works ?
Matki, (or Matka) is a Hindi word and means for an earthen pot.  It has been in use since ancient times and can be found in houses of every class. The cooling process works through evaporative cooling. Capillary action causes water to seep and evaporate from the mini-pores in the pot.  It takes the heat from the water inside, thus making the water inside cooler than the outside temperature. Hence it is used only during summer and not in winter.
Evaporative cooling differs from typical air conditioning systems which use vapor-compression or absorption refrigeration cycles. Evaporative cooling works by employing water's large enthalpy of vaporization. The temperature of dry air drops significantly through the phase transition of liquid to vapor (evaporation). Cool air uses much less energy than refrigeration. In extremely dry climates, evaporative cooling of air has new benefit of conditioning the air with more moisture for the comfort of building occupants.
The cooling potential for evaporative cooling depends on the wet bulb depression, the difference between dry-bulb temperature and wet-bulb temperature. In arid climates, evaporative cooling reduces energy consumption and total equipment for conditioning as an alternative to compressor cooling.