Kuang Si waterfall free entrance path, Laos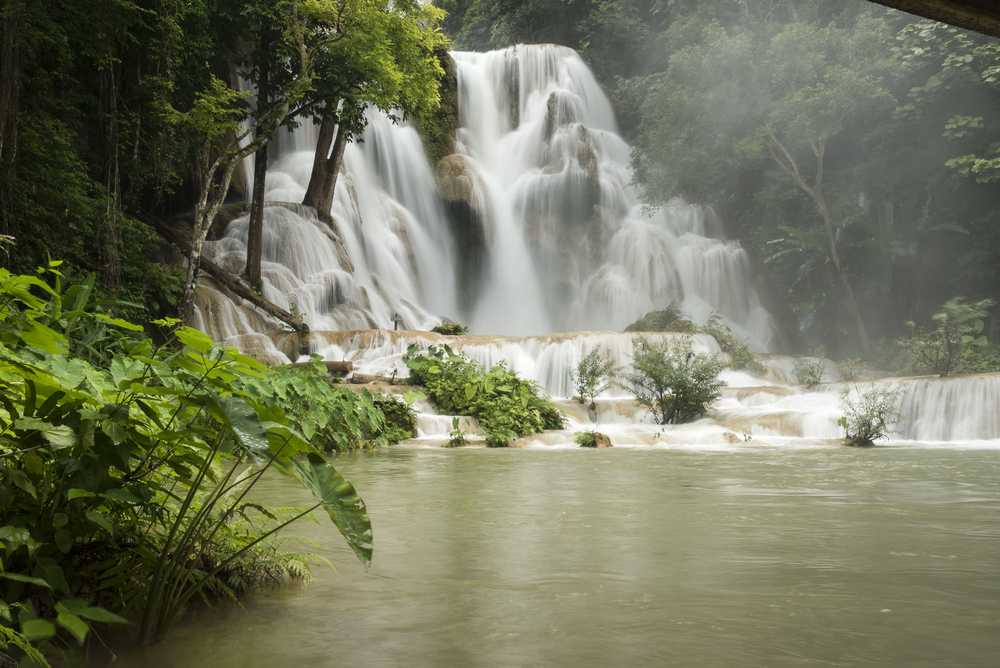 The Kuang Si Waterfall is a three tier waterfall  located 29km south of Luang Prabang. You can make your own way to the waterfall by hiring a motorcycle which means you can take in some scenic villages en-route. The roads however are rocky and can be hard going.
These waterfalls are a favourite side trip for tourists in Luang Prabang. The falls begin in shallow pools atop a steep hillside. These lead to the main fall with a 60 metres (200 ft)cascade. The falls are accessed via a trail to a left of the falls. The water collects in numerous turquoise blue pools as it flows downstream. The many cascades that result are typical of travertine waterfalls. Most of the pools are open to swimming (although at least one is closed as being a sacred site).
The locals charge a admission fee 20 000 Kips to visit the site. Even it is well maintained with walkways and bridges to guide the visitor, there is a way around.
2 in 1: Kuang si waterfall and jungle trek
There is an option to get to the Kuang Si waterfall resulting in not paying the admission fee.
The easy device is "follow the river", because, obviously, the waterfall is on the river. So if you get to the river somehow, just go up the stream on the right bank and you will find it.
In case you are not able to find the way, here is the map for you.
Steps:
In the village, before entering the parking, on the right side of the road look for Buddhist monastery.
Pass the monastery and approach the river.
Stay on the right side of the river and go upstream. There are several small path entrances to the jungle. Follow any of them.
Walk up the stream following the path. If you will keep near the river, you will find it.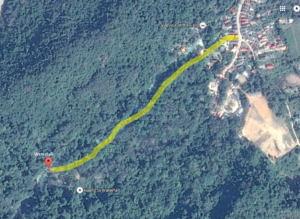 Be aware, that it is quite a jungle trek. We did it in sandals, but it is wet and slippery. You will also need some repellent, because of mosquitoes.
Near the waterfall is small reservation for black bears. Don't worry to enter to their territory, they have very good fence.