Save 100 000 Rp on visiting Telaga Warna lake at Dieng Plateau in Indonesia
Honestly said, Telaga Warna (Colourful lake) of Dieng Plateau is not worth that money. It is standard volcanic lake that in case of good angle in shiny day may appear little bit more green than any other usual lake.
But is still nice to see when you are at Dieng Plateau and you possibly managed to get to Sikidang Crater free of charge. To get to Telaga Warna free of charge, you need first to pass the security booth where they will not ask you any money, just give you "good" advice how to approach Telaga Warna for 10 000 Rp instead of 100 000 Rp. The trick is to follow illegal route opened by some friend of the security guard.
So how to get there?
Don't listen to the guard and continue the road passing main entrance gate which you will find at right hand side. Continue and take first right after the main gate. This road will lead you to small restaurant near Dieng Plateau Theater. May happen they will want you to pay parking, but we didn't pay. From the parking follow small path in the NW (right) corner of the restaurant that climbs up between the rocks. After reaching first crossroad get to the left and you will descend down to the Telaga Warna lake. From there you will find many roads with nice views of the lake. We took small path leading even more down, just to the level of the lake and made nice walk around whole lake.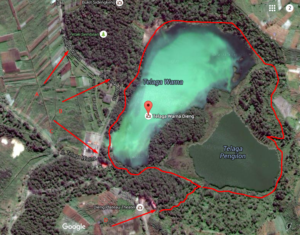 Legend to the map:
A – Security checkpoint
B – Start of illegal entrance
C – Main entrance gate
D – Start of the walking path