Tips for Langkawi with small budget, Malaysia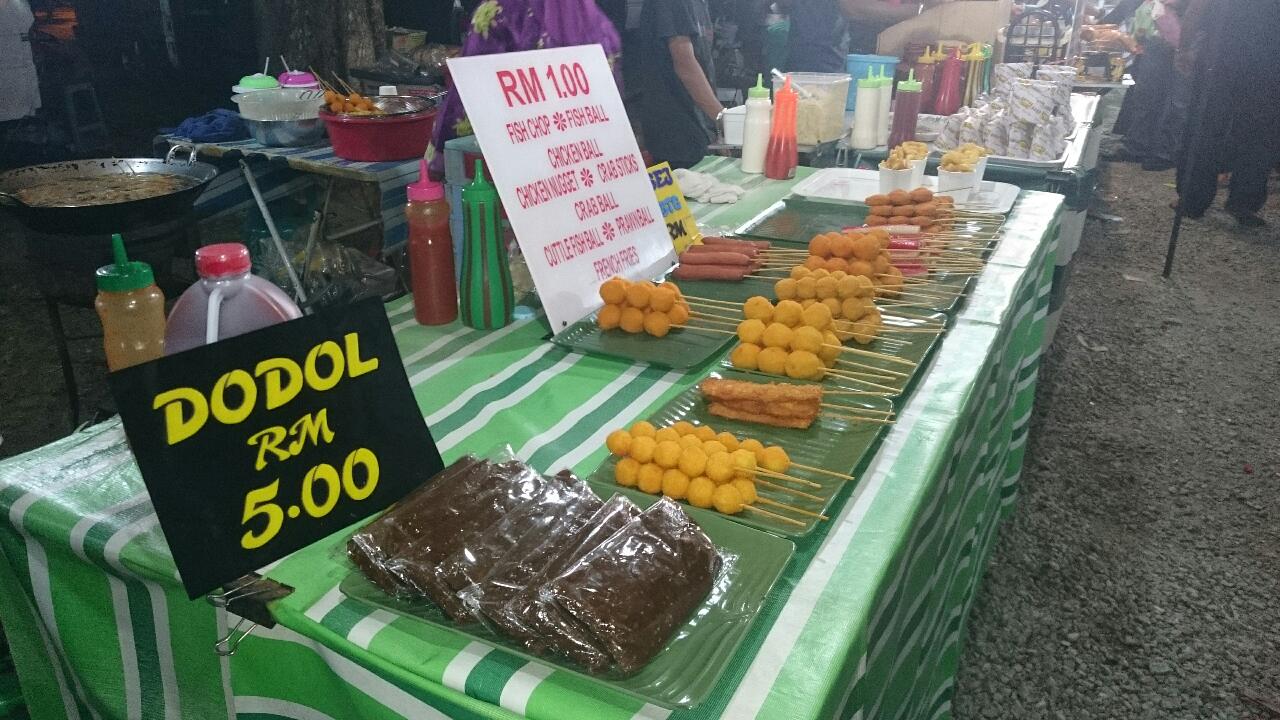 Malaysian island Langkawi can be pretty expensive place to stay. Therefore we traveled it and we have some tips to save money, especially if you are around Pantai Cenang, the tourist center near airport.
Cheap meals for lunch and dinner
Our favorite place is Tomato Kendar Restaurant, indian restaurant with self service. The prices for meals start from 3 MYR, good portion of rice with chicken in some kari sauce is for 5.5 MYR. You can find it here on the map.
Other possibility is to visit any of the night markets – see below.
Great price of chocolate
If you are looking for super cheap chocolates of well known marks, like Ritter, go to Cenang Mall. Go upstairs and you will find big shop with cheap chocolate. Ritter chocolate bars starting at 2 MYR.
Where to buy fruits and vegetables
This is very tricky question, because even though Langkawi is tropical island, there is big lack of vegetables and fruits. Still, you can find some expensive shops where to buy fruits (no vegetables). So if you look for cheap vegetables and fruits, you have to visit the night markets.
There are markets on Monday, Tuesday, Thursday, Friday and Sunday. Most of them is out of the walking distance if you live in the center, or  recommended homestay. So the best option is to plan your motorbike excursion for the days of the market.
The market is always almost the same – the vendors just move from place to place, so you will always find the same things there. However, it is good place to buy cheap food, chicken, rice etc.
To find the places of markets, get the map from any of the tourist office.
Tuesday market seems to be little smaller than others. Thursday market is in walking distance if you like LONG walks and you are near Pantai Cenang.
Cheap grocery store
The cheapest grocery store we found is called Gecko and you will find it here.
Another cheap and really big supermarket is somewhere here. It is not exact place, but it is somewhere near, you will find it while riding on the street.
Fresh cheese for good price
In tropical countries is lack of diary products. But if you look for great cheap fresh feta cheese, check the Turkish shop here on the map. They have cheese at price of 6 MYR for 100g fresh feta cheese. That will make you at least 2-3 good meals if you combine with bread or even rice.
Post office on Langkawi
You will have hard times to find the post office where they sell the stamps. There are two post offices on Langkawi – at Padang Masirat and in Kuah city.
Where we recommend to accommodate at Langkawi?
Please follow us to the separate article Where to accomodate at Langkawi.